Twenty-eight years ago, Bernard and I went on our first date at a Chinese restaurant near Ottawa. I had no idea who he was or what he looked like. We had only spoken once over the phone.
We connected through a local dating agency, the type that required us to fill out an 8-page questionnaire about who we were, our likes and dislikes, what we currently did and what we hoped for the future.
Those questions became the foundation for what we were looking for in having a loving and lasting relationship.
Here are just a few of the things to think about and consider when you are either looking for a partner or wanting to strengthen the relationship you already have.
Become Acquainted With Yourself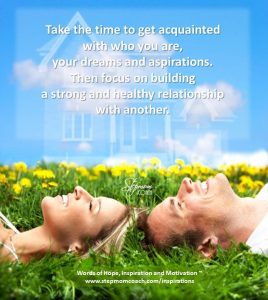 We put so much energy focusing on what kind of person we want to spend time with that we forget to ask ourselves "what kind of person am I to be with?" If you don't know who you are, how can you know what to look for in a partner?
Self-awareness is often overlooked as an important first step to finding that person you'll enjoy being with. This means spending time on your own, getting to know your likes and dislikes, values and beliefs, exploring your dreams and aspirations.
Questions around family, children, holidays, and work are important to look at and have some idea of where you stand.
Being aware of your strengths and weaknesses, desires and dislikes helps you to be honest with yourself and your partner. When you love who you are and accept all of yourself, it becomes easier for others to spend time with you.
Be Honest About Your Feelings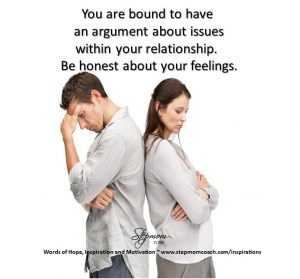 You are bound to have an argument at some point in your relationship. It's part of being together. I remember the first argument Bernard and I had, it was about his daughter's behavior. It wasn't something major, at least I didn't see it as such. I started to share my frustration over my stepdaughter's inability to stay seated at the table while we ate.
As I continued to share my feelings, Bernard kept quiet until, all of a sudden, he blurted out that we were done. I was shocked because this was the first time we argued and I couldn't believe he was ready to call it quits.
Sharing your feelings and emotions deepens the relationship as long as it's done with love and respect. If your partner perceives you as attacking or criticizing them, they are likely going to retreat inwards or walk away from you.
Think about the purpose behind what you want to share. What is the end result you want to achieve by sharing your feelings?
I'll say that we have done a lot of testing as to the best ways of sharing our feelings, being honest about what's going on inside of each other and learning just what and when to share those thoughts and feelings.
Know Your Boundaries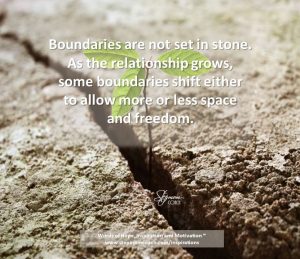 Being in a relationship doesn't give you permission to do or say anything you want, at any time, to your partner.
Clearly defined boundaries help to create strong and healthy relationships by being respectful and mindful of what each other's limits are and honoring them.
It's important to understand that boundaries are not set in stone. As the relationship grows, some boundaries shift either to allow more or less space and freedom, depending on the boundary and the context for the changes.
Be open to negotiate what you are willing to accept or not in the relationship without having to sacrifice your integrity. Discuss the reasons why you feel a certain way about situations in your relationship. Still, be firm about the consequences regarding overstepping your boundaries. A boundary with no consequence or a flimsy one is worthless and leads to lack of respect towards you.
Strong and healthy relationships don't occur overnight. It takes time and energy, awareness and honesty, patience and commitment. It's through the experiences you share and the way you deal with them that you build and create loving and lasting relationships.