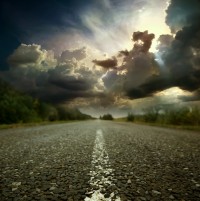 There are days when I ask myself, "How did I do it—how did I be a stepmom?" I mean, it wasn't easy, and I've definitely had my share of tears to shed. As I ponder that question, I know for sure that I didn't do it alone. I got help in the form of inspiration and motivation from others. I read books and stories of what others did in similar (and, sometimes, worse) situations.
One author that has caught my attention is Patti Digh. She is an amazing woman and author. I had the pleasure of meeting her in person at a conference I was attending where she was the key note speaker. She talked about her book Life Is a Verb: 37 Days to Wake Up, Be Mindful, and Live Intentionally
where she compiled many of her blog stories to create this inspiring book.
It's the kind of book where you can sit and just read a story at random and learn something of value in it. One particular story I read was about loving people you think are impossible to love, and I started to think about my own life and the people in it. As a stepmom, I thought, "There's no way I could ever love the ex-wife. She's crazy. My job is to side with my husband, to support him against the wrongs this woman did to him. I mean, she took the kids away, and only allowed him to be a dad 4 days out of each month. That's awful."
But then, there is always another side to any story—to every story, in fact. Until you can truly take the time to listen with an open heart, you never get the real picture. When we see the other person as a human being, just like us, with faults AND accomplishments, hopes and dreams—often the same hope and dreams we have for the same kids we care for in different homes—it starts to be hard to hate them.
We tend to be more alike than different. We all have the same goals and aspirations for our kids. Once we put aside our anger, frustration, and competitiveness, the fog in our head starts to evaporate and lets us see who is truly there—a parent desperately trying to do the best they can with what they currently have in place.
When we open the door to possibilities, only then can we help one another through our good influence and positive modeling. We can show others how we want to be treated by treating them with love and respect. While there is hatred in our hearts, there is no place for sharing what good is taking place in our homes and no place for children to learn that they are lovable and important to us.
Sometimes we need to do the hardest things in life in order to truly be free. Recognizing the good in another and focusing on that part of the person, rather than their shortcomings, is the greatest freedom of all. It also provides you with a view of the person you truly are, a caring and loving human being.
At the end of every night, I write down my daily successes, big and small. Although I acknowledge things I'm not happy with and things that bother me, by recording my successes I know when I put my head down to rest at the end of the day on my fluffy pillow, I have a smile on my face and say to myself, "I've done well."
"Whenever there is a human being, there is a chance for a kindness." Seneca