I don't know about you but I feel there's a big push and a lot of pressure that if you don't start on January 1st with setting your goals, publicizing it and asking all your friends to chime in, you'll fail. Maybe it's just me. Maybe I'm putting too much thought in this.
Somehow, this year, I just want to take some time to rest from all I've done in 2019 and savor a few moments of rest before I jump back into work.
Winter symbolizes a time to hibernate, to rest and recover from all we've done in the last months. It's a time to cuddle up and just enjoy the fruits of our labor. So why a big push to set goals and rush to accomplish them?
Maybe it's because we're starting over with a new year, a new perspective, new hopes and dreams. I have those too. I just don't want to start on Jan 01.
A tradition Bernard and I had was to sit together on the first day of the year and plan out what we wanted to get done. It made sense back then when it was just the two of us at home on Jan first. We'd be relaxing and enjoying each other while our kids were with their other parents. It also made sense since we both needed to schedule our vacation time, when and where to take our kids on family trips, any business meetings we had coming up and time for us as a couple. We knew full well that if we didn't schedule those big rock moments early on, they wouldn't get done.
Our life is different now. The kids have their own lives with families of their own. Life is still hectic but that's our own doing. Saying no and setting healthy boundaries needs to be a daily practice. It also requires us to take a look at what we're currently doing and tweaking our habits.
Last night, Bernard showed me a list of 30 – YES, 30 – resolutions he planned for 2020! The first thing I asked him was how he planned of achieving all of these! His defense wall came up and it could have turned into a big argument. Instead, I sat there quietly, resting my hand onto his and said, let's just keep it simple this year, OK?
He quickly pared down his list to 9 items that were key to him – many were around behavior modifications and commitment to one another rather than "getting something done!" He felt better. Now, it was my turn! "What about you?" he asked. "What are your goals for this year?"
I responded with "I don't have goals, only two words: Community and Connection." I proceeded to explain.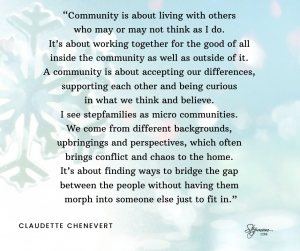 "Community is about living with others who may or may not think as I do. It's about working together for the good of all inside the community as well as outside of it. A community is about accepting our differences, supporting each other and being curious in what we think and believe. I see stepfamilies as micro communities. We come from different backgrounds, upbringings and perspectives, which often brings conflict and chaos to the home. It's about finding ways to bridge the gap between the people without having them morph into someone else just to fit in." This is how I see and define communities and what my focus is for the coming year.
The next word I picked to focus on this year is "Connection" which ties in well with "Community." Here's my thoughts about connections:
"A connection is more than saying hi or bye to someone or sharing funny posts with them on social media. Feeling connected is about understanding where each of us come from, where we stand on issues, without feeling compelled to change the other. There's a sense of attachment to each other's needs and wants, a desire to see one another succeed and be happy without sacrificing ones' own identity. Feeling connected is knowing you can depend on this person to be with you when you need it most, while understanding it's OK to give you space when you need it."
I get it that not everyone will agree or resonate with my ideas. That's OK. There is always room for improvement and change.
So what about you? What are your goals, visions or aspirations for 2020? Have you made any yet? Are you like me, hibernating for a bit, catching your breath and then decide?
If you have made some goals or chosen a word, I'd love to hear about it. Just comment below and share. I have my coffee in hand, ready to see what you're 2020 plans will look like, when you're ready.