[et_pb_section bb_built="1″][et_pb_row][et_pb_column type="4_4″][et_pb_text]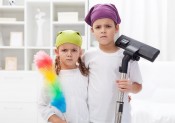 I get asked this question a lot from my clients, especially if the kids or stepkids don't live with you full time. What are the appropriate chores to ask the kids to do at your house?
Chores are an important part of teaching life skills to your kids, meaning that as (step)parents, you want your kids to grow up to become self sufficient and contributing adults in the community. At least, that should be the goal for most parents. Believe me, you don't want to have a thirty year old still living with you asking you to make his lunch before going to work and wash his favorite shirt before he goes out with the boys. It's just not right.
When it comes to chores in your home, one area that's really important is taking care of their personal space, meaning their room, toys/play area and depending on their age, their bathroom. Even a three year old can learn to put away their dirty clothes in a hamper, bring to covers up on their bed and hang up their towel after they finish with their bath. If you start with little things and reward them for completing the task, it will become easier as they get older.
I also highly encourage kids to participate in preparing the meals and the cleaning up. Since they were a part of consuming the food, it's only fair that they help with putting the table on, clearing it and doing the dishes. For example a three year old can help wash lettuce while a teen can prepare simple meals.
As for the rest of the chores, it's really up to you and your partner in deciding what works for your house. We had a chart on the fridge explaining what chores we wanted to have done and by when. We had three kids at home, two who came to our house one day during the week and then every other weekend and my son living with us full time. We had to find a way to make it equitable for everyone. Not easy.
The tasks where on a rotating schedule meaning that each child had to do a particular chore at least once during the month. When the girls were not home to do that chore, my husband and I would take over so that my son didn't end up doing all the chores on his own. It worked for us.
Think of this process as helping the kids learn what it takes to run a home, take care of their stuff and learn some values. Believe me, it's not when they head out for college that you start cramming all they need to know in order to live on their own. The kids will become overwhelmed and feel lousy about themselves or blame you for not teaching them how to take care of themselves.
Either way, you are going to have some push back. Better to do it when they are young and you have a say in the matter.
In the end, it's all a matter of trying out for a few weeks to a month and see what works. Involve the kids in the decision process. The more involved they are in how things are run in the home, the better the chance they will willingly participate in doing the chores.
Want to talk about chores and your child? Leave a comment below and I'll be more than happy to help you find solutions.
Looking for help in creating a schedule that works for your family? Schedule a time with me to chat about some strategies that can make life at home more peaceful and joyful by clicking here.
[/et_pb_text][et_pb_comments _builder_version="3.1.1″ /][/et_pb_column][/et_pb_row][/et_pb_section]