Be Clear on What You Want For Mother's Day
Over lunch, Bernard asked me what were my expectations around Mother's Day this year (he knows me well after 28 years 😉).
Jokingly, I told him to read this week's newsletter.
Seriously though, thinking we know what the other person wants is probably one of the biggest mistakes we can make in a relationship – any kind of relationship.
Let me say this right now – hinting doesn't work. It's a bad idea. If you're the type of person who hints at what she wants, STOP DOING THAT!
You're setting yourself and others up for failure.
So what are you to do instead? Be clear on what you want, not just for Mother's Day but all the time.
I can't tell you how many times I've gotten upset or disappointed because I expected Bernard (and the kids for that matter) to read my mind. Some of our biggest arguments were around what I thought we ought to be doing and what Bernard thought I wanted to do.
We are so different now from when we first came together years ago. After many moments of trial and error, we're getting closer to having less trivial arguments. (It's not perfect, but it's so much better.)
As we're eating, Bernard let's me know again that he's waiting for me to tell him about my expectations for the weekend.
We went down a list of possibilities, which included spending time with our kids and grandkids. If I stay home and have a quiet day, that works for me just as much as going out with the family and getting together. What was important to me years ago isn't so much of a priority now. We change over time.
I must say that I'm truly a lucky woman, for it's Mother's Day every day in my home. I get my coffee in bed, lots of help around the house and a husband who knows to ask me what I want. Our kids call when they have time (they're parents too) and I get to enjoy my grandkids.
I'm aware that not every woman is treated as well as I am, but it's not always been this way for us either. Being clear and specific about your wants and needs is a step in the right direction. No one can read your mind, and you shouldn't expect them to either.
Do you know what you want for Mother's Day? Is your husband/partner aware of your wants and needs? If not, take a moment to write your thoughts on paper and share it with him over lunch or dinner. Then have a conversation about what's possible.
A gift for you: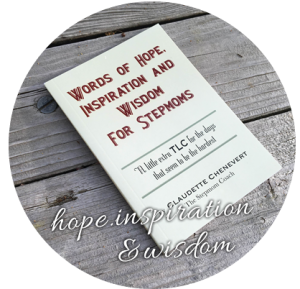 Have you downloaded my ebook on Words of Hope, Inspiration and Wisdom for Stepmoms?
This is my gift to you for Mother's Day.
In here, you'll find quotes such as:
"Treat everyone with politeness, even those who are rude to you – not because they are nice, but because you are." Unknown

"A smile is the light in your window that tells others that there is a caring, sharing person inside." Dennis Waitley, Writer

"Friendship is born at that moment when one person says to another: What! You too? I thought I was the only one." C.S. Lewis

"I give myself the gift of recognizing what I do for I know that it comes from the heart." Claudette Chenevert, The Stepmom Coach
Want to get your free e-book? Download your digital copy here: https://stepmomcoach.com/Words-Of-Hope-Inspiration-And-Wisdom-For-Stepmoms
Feel free to share with other stepmoms that might love to get there own copy of my ebook.
Wishing you a great Mother's Day, no matter how you decide to spend it.